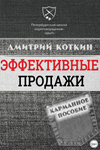 Effective sales. Pocket allowance

After the payment comes a link to download the book

Description of the book
Dear reader, before you is a unique book in which we managed to gather the experience of all sales trainings conducted by business trainers of the Petersburg School of Negotiators "SHIP".

We will analyze the techniques and the main mistakes that people make when conducting sales, we´ll see how different companies approach different sales processes, we will see what the work of an effective seller is built on.

For simplicity of understanding, we will use in the text all those charts, tables, which we use in the trainings.

For whom this book?

For those who are only going to become a millionaire, by selling a product or service.

This book is for those who are actively engaged in sales, for whom they are the source of material prosperity.

This book is for professionals of corporate universities who train sales in the company, who needs to quickly deliver key information to sales managers and sellers.

This book is for the heads of sales departments, project teams whose employees constantly defend the interests of the company in negotiations with buyers.

This book is for hr-specialists, for those who are engaged in the selection of specialists in sales departments, who needs to quickly make the right decision, for which it is necessary to understand whether the candidate will be profitable, he will be able to bring profit to the company or will be unnecessary ballast.

This book is for a business coach who is important to be able to explain the participants of the training on sales in a concise and concise manner what is "sales" and teach them to earn money for themselves and the company.

The book will help not only understand the principles of effective sales, but also assess their abilities through unique tests given at the end of the book.
No feedback yet