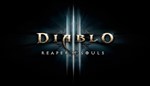 You buy Diablo 3: Reaper of Souls.attentionRegion: any
Language: Multilingual

Attention! To start the game requires addition of Diablo 3!
</ Attention>

Diablo III: Reaper of Souls - the first addition to the game genre Action / RPG - Diablo III. It was presented at Gamescom 2013 and is designed for both PC and Mac platforms, and later released on a new generation of consoles.
✰✰✰✰✰✰✰✰✰✰✰✰✰✰✰
For lovers of gifts:
✰✰✰✰✰✰✰✰✰✰✰✰✰✰✰
1. Leave a positive feedback after purchase
2. Write on the purchase page in private messages a request for a gift.
3. Choose one of the many games and get the activation key as a gift :)
02.03.2018 11:55:44
++++++++++